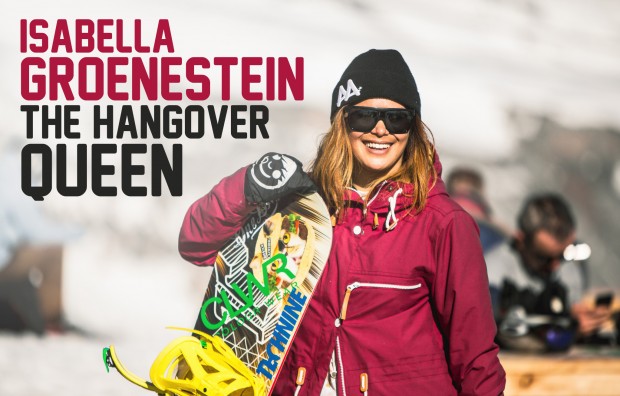 Deux grandes nouveautés sont devant vos yeux : Notre première interview de fille et le premier article bilingue avec la version anglaise en dessous. Et pour ce double dépucelage on a choisi une championne de l'underground, la rideuse hollandaise basée à Laax, Isabella Groenestein, histoire de changer des quelques rideuses que l'on voit toujours dans les médias. Un nom qui ne vous dit sûrement rien et pourtant vous avez déjà pu entrevoir Isabella dans notre report du camp Burton à Cervinia. La demoiselle ride vraiment bien, avec style et c'est sûrement l'une des personnalités les plus fun de la scène snowboard européenne. Elle était à Zurich au contest de jib du Freestyle.ch fin septembre et notre envoyé spécial Andreas Gebbe (le boss des camps Demonium) en a profité pour lui faire cette petite interview.
D'où viens-tu et comment une Hollandaise d'origine asiatique est tombée dans le snowboard ?
Je suis mi Balinaise mi Italienne et née au Pays-Bas, puis j'ai vécu jusqu'à mes 4 ans à Bali. J'ai fait du skate de 12 à 16 ans, puis mes beaux-parents m'ont emmené sur les pistes indoor prendre des leçons de snowboard et j'ai de suite accroché ! Ma famille de Bali sont des surfeurs et j'ai toujours été inspiré par les boards sports.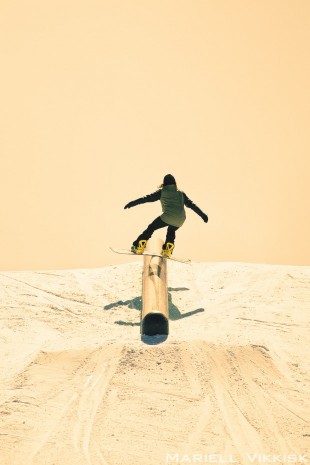 Où rides tu l'hiver ? Raconte ta journée type de ride ?
Après mes études je suis allée en Autriche pour shaper des parks et j'ai entendu parler de Laax il y a 3 ans. J'y suis allé et depuis je n'ai pas pu quitter ce park qui est le mieux shapé et le plus long que j'ai ridé de ma vie. Ma journée type à Laax, je commence à rider vers 10:30 car je travaille dans un bar jusqu'à tard le soir. Je vais prendre une soupe au No-Name bar et après je vais shredder jusqu'à ce que mes copines veuillent faire une pause pour bavarder ou manger quelque chose. Vers 16h je descends boire un panaché au Indy Bar et je recommence tout ça le lendemain !
Que penses-tu des contest de jib en ville ? Tu es habituée à en faire ?
Les contests sont une autres façon de rider car il faut être capable de plaquer ses tricks en peu de temps, remonter à pied au plus vite et supporter la pression des gens qui vous regardent. Mais être avec un bon crew de fille rend la chose plus marrante et on se supporte mutuellement. J'ai fait pas mal de contest de jib depuis les 9 dernières années où je fais du snowboard, mais je ne m'y habituerai pourtant jamais vraiment. Je n'ai pas envie de suivre les règles et je trouve que c'est plus important de plaquer un bon trick plutôt que de faire des tricks que tout le monde peut faire juste pour gratter des points. J'ai toujours envie de pousser la progression du snowboard féminin et de montrer aux mecs qu'on est là !
C'était comment de rider au Freestyle.ch à Zurich ? Pas trop dur de se concentrer sur le ride et pas seulement chiller et faire la fête ?
Le problème des contests de jib c'est qu'il y a toujours une fête avant l'évènement. Et comme je suis trop contente de retrouver tous mes potes,  je finis à chaque fois par rider avec une énorme gueule de bois ! Mais avec beaucoup d'eau, de la bonne bouffe et si besoin un energy dring, je m'en sors. Le Freestyle.ch est dingue car il y a vraiment beaucoup de public. Le set-up était pas mal, mais la neige était dans un sale état. L'élan était déjà un challenge et même si tu pensais avoir fait ton trick, il fallait encore gérer la réception pleine de trous. Mais c'était quand même un évènement cool avec tous les gens de Laax.
Est-ce que ça sert d'être une rideuse sponsorisée pour pécho des mecs ? Tu penses que certain ont peur car tu rides mieux qu'eux ?
Je pense déjà que c'est plus facile en général d'être une fille pour pécho. Je ne sais pas si je fais peur aux mecs. J'espère que non. Mais s'ils sont des chochottes, ils ne valent pas le coup de toute façon !
Quelle est ton opinion sur le snowboard féminin actuellement ? Qu'est ce qui t'inspire comment le vois-tu évoluer ?
Le snowboard féminin a explosé depuis 5 ans. Il y a beaucoup plus de filles qui font du snow. Je commence à me faire vieille et les filles plus jeunes sont vraiment fortes. Je suis très fière de voir des filles qui déchirent car il faut arrêter de penser que les filles ne sont pas capables de faire comme les mecs. Les filles peuvent bien rider tout en restant jolie. Ce qui m'inspire ce sont les filles avec qui je ride. Elles me donnent les bonnes vibes quand on est ensemble pour voyager, faire la fête ou refaire le monde.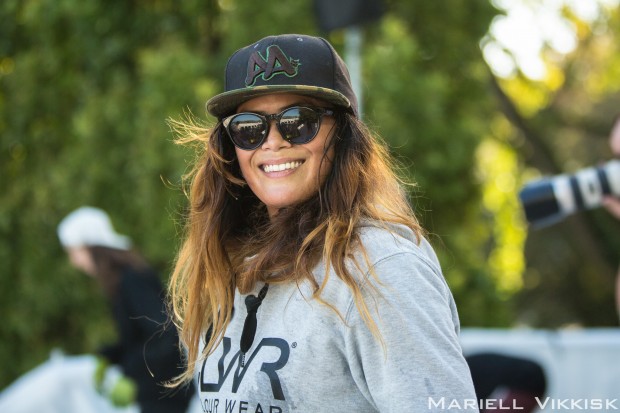 On va finir par une vraie question de fille : Comment tu définirais ton style vestimentaire sur la neige ? Décris nous ta tenue préférée pour rider.
Mon style serait fashion mais semi ninja-gangster ! J'aime porter des casquettes et j'aime avoir une vibe hip-hop depuis toujours. Les modes changent tout le temps, mais je reste gangster et hip-hop, car j'aime ce style et cette musique. Ma tenue préférée pour rider c'est un pantalon noir slim Colour Wear, un tee-shirt à fleur Advita, une coach jacket noire DGK, une casquette Technine et des lunettes Adidas.
/////
English version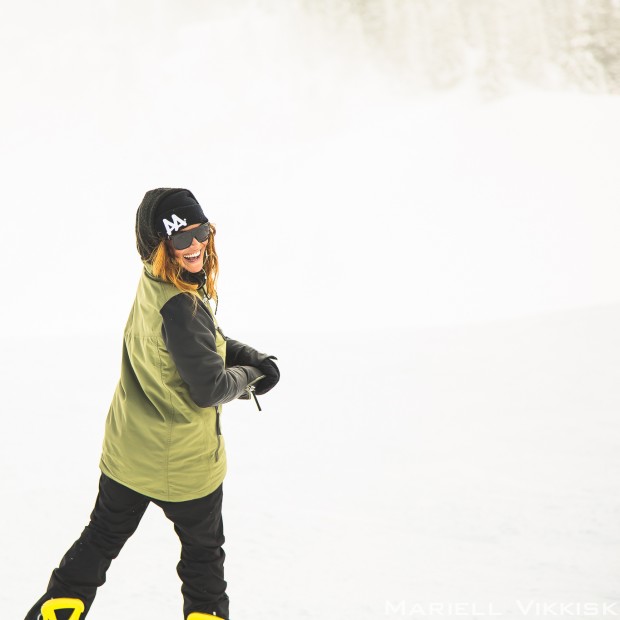 Where are you from and how does a asian-deutch girl got into snowboarding ?
I am a half Balinees half Italian girl born in the flatlands of Holland and lived as a kid 4 years in Bali. I used to be a skateboarder from 12 years old till 16 then my godparents took me to the indoorslopes for some snowboard lessons and i was straight away hooked ! My family in Bali are all surfers so i was always inspired by boardsports.
Where do you ride during winter season ?  How is your usual day on the mountain ?
After my studies i went to Austria for park shaping then i heared about laax, checked it out and could not stay away from the amazing shaped longest park i have ever ridden 3 years ago. And i am still here. I work in a bar till late so i arrive on the lift at  Laax at 10.30 then have an amazing soup at No-name bar. After then i shred till my girls wanna do another brake to chit chat or for some foodage. Around 4 i go down have a panache at the Indy bar and thats that.
How do you feel about urban jib contest ? Are you use to it ?
Contests are in general a whole different kind of snowboarding. You have to be able to stomp all your tricks in a few minutes time and don't forget all the stairs you have to walk up every time to do your next run. And also the pressure you feel from the people who are watching. But having your girls crew there makes it all alot more fun because we always get super stoked on eachother. I have done alot of jib contests in the last 9 years i have been snowboarding but some how you can never get use to them. I also never follow the rules, cause for me sticking the sickest trick is more important than winning a contest by doing tricks everybody can do, just to score more points. I always feel like progressing girls snowboarding and showing the boys we are out there !
How was it riding at Freestyle.ch in Zurich ? What is hard to focus on the ride and not only chill and get drunk ?
The problem of jib contest is that there is a party before the contest and im always way to stoked to go out and see all my homies. So yes i ride contests 99% of the time with the biggest hangover. But with a lot of water, good food and if needed a energy drink, i think i am good. The Freestyle.ch is always crazy. I did my first time last year and there are always so many people watching and wanna see you sticking your tricks. The setup was mellow but the snow was the worst conditions you can have. The inrun is like a challenge itself and then when you finaly think you did your trick, you have to figure out how to land in a landing full of gaps. But all an all it is a sick event with everybody i know from my home resort in Laax.
Is it good to be a sponsored snowboard girl to pick up boy ? Do you scare some guys because you ride better than them ?
i think its better to be a girl in general to pick up somebody. I don't know if i scare some guys, i hope not but i can imagine i intimidate some boys. But if they are pussies they are not worth your while !
What's your opinion on girl snowboarding these days ? What is inspiring you and how do yo see the evolution ?
Girls snowboarding exploded the last 5 years. There are way more girls riding and as i am getting older the girls who do sick stuff become more younger. I am really proud to see girls killing it because i think we have to get out of the image that girls are not able to do things boys can do. Girls can kill it with being beautifull.  The most inspiring thing in snowboarding for me is the crew of girls i am riding with. They give out good vibes without them i think i would not be where i am standing. Doing trips together, party and good talks about life. So shout out to my girls Mary, Michelle, JJ, Rachida, Barbera, Stephi, Sandy, Gaia, Gina and many more!
Let's have a girly magazine question : How would you describe your style on the snow ? Tell us about your favorite outfit ?
My style is fashion but definitely semi ninja-gangster. I love wearing caps, it keeps the sun from making a goggle tan. As long as i can remember i loved hip hop and the vibe it gives off. Being gangster is for me being true to something. Fashion hipster changes all the time but « gangster » is just always « gangster ». I love hip hop music and the style. As long as i can remember i liked it. Maybe we are not living in the ghetto but the true meening of it to me is to have a crew you love and trust and put the place up site down together.  « Gangsters » will always find eachother and if your a true one you will accept one of your own. Cause eventually it all comes down to snowboarding and doing what you love.
My favourite outfit of the moment on the mountain is a Colour Wear black slim fit pants, Advita flower shirt, DGK black crew jacket or if i feel like wearing more colour my Colour wear red jacket, Technine cap and the finishing touch of Adidas sunglasses.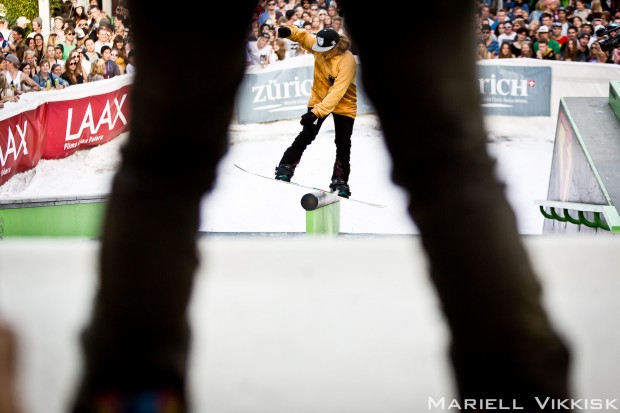 Interview : Andreas Gebbe
photos : Mariell Vikkisk