C'est quand même un sacré personnage ce Halldor Helgason. En plus d'être l'un des riders les plus balaises et polyvalents du monde, il est aussi un entrepreneur hors-pair qui est en train de se construire un petit empire entre Lobster, 7/9/13 et Atrip, sa nouvelle marque d'outerwear. On ne dirait pas quand on le voit faire le zozo dans les vidéos, mais c'est un vrai professionnel du fun le Halldor ! L'Islandais moustachu a eu droit à son propre projet vidéo en compagnie de Sage Kotsenburg cette saison. Vous avez sans doute déjà vu Dayumm! mais voici la part solo d'Halldor. On a profité de cette actu pour lui poser quelques questions afin de savoir ce qu'il y a derrière cette belle moustache à la Astérix.
Interview Julien Mounier
English version below
Pourquoi avoir appelé votre vidéo Dayumm ? Est-ce que ça a un sens ?

On galérait à trouver un nom qui nous plaisait. On a d'abord pensé à « Don't Panic » mais on s'est rappelé qu'Isenseven avait appelé une vidéo comme ça il y a quelques années. On a ensuite pensé à « Fortune Cookie » mais on n'était pas super emballés. Et alors qu'on filmait un triple rail descente avec des gaps dans le Minnesota, Joe Carlino qui filmait dans son coin à commencer à dire Dayumm toute la journée, puis on a commencé à le dire pendant tout le trip et on a décidé d'appeler le film Dayumm!
Quelle est la chanson de ta part ?  En cherchant avec Shazam et Google j'ai trouvé que c'était un vieux groupe de rock hongrois des années 60, donc pourquoi ce choix ?

Un de mes potes qui s'appelle Kuske Fahlgren m'a fait écouter ça et j'ai vraiment kiffé.
Est-ce que Sexual Snowboarding est terminé ?

Sexual Snowboarding ne s'arrêtera jamais mais nous n'avons pas fait de vidéo cette année. Dayumm! a été fait par le roi de la vidéo Joe Carlino, donc je pense que c'était simplement du Joe Carlino Productions.
Est-ce que tu prévois de sortir encore des nouvelles marques ? Comment ça se passe pour Atrip et à quel niveau es-tu investi dedans ?

Pas de nouvelles marques pour le moment. Je suis assez occupé avec Lobster Snowboards, Switchback Bindings, les ceintures 7-9-13 et maintenant Atrip Apparel. Atrip se porte vraiment bien pour une nouvelle marque c'est très encourageant. Je m'occupe de dessiner tous les vêtements, faire les photo pour les catalogues, trouver les bonnes personnes à enrôler dans notre « special interest club » et m'occuper d'à peu près tout. Je suis très content d'être associé à Stigma Distribution parcequ'ils savent vraiment ce qu'ils font et ils sont bons dans leur domaine. C'est pareil pour Low Pressure Studios avec qui nous faisons Lobster et Switchback avec Eiki ainsi que Beatnuts pour 7-9-13.
Comment partages-tu ton temps entre le business pour t'occuper de toutes tes marques et les moments où tu dois rider ?

Ce n'est pas facile mais comme je disais nous sommes associés aux bonnes personnes qui savent ce qu'ils font et s'occupent plus de la partie business. J'en fais le maximum et j'apprends plus chaque année et c'est très cool. Mais mon but est de rider le plus possible tant que je peux. Puis quand je serais plus vieux, mon plan est d'être plus investi dans la partie business de nos marques, être le team manager et m'occuper des prochaines générations pour que ça continue.
Peux-tu nous parler de cette vidéo folle de 2012 dans laquelle tu étais qui s'appelait A2M avec une dernière scène marquante avec un gode ? On a entendu la rumeur comme quoi Nike était très remonté contre toi et que la plupart des riders de la vidéo ont perdu leurs sponsors. Est-ce que tu prévois de faire de nouvelles vidéos tarées dans ce genre partyboard à la Wildcats/Partysnake ?

Nike ne m'a jamais rien dit mais je voyais bien qu'ils n'étaient pas super contents de cette vidéo. La plupart des riders étaient des profs de snow dans notre station locale et ils se sont tous fait virer. Quand à moi je n'étais pas supposé pouvoir me qualifier pour les Jeux Olympiques pour l'Islande. Donc en effet cette vidéo ne nous a pas trop aidé… Mais mes potes de Barf Bags parlent d'en faire une nouvelle donc j'espère que ça se fera le plus vite possible. Ils ont fait une seconde vidéo après A2M qui s'appellait RV Juice. Il faut la mater car la dernière part de Toros El Logos est à voir. Elle commence à 14:12 et je pense que c'est une de mes parts préférées de tous les temps.
Est-ce que ça te plait de vivre à Monaco ? T'es-il arrivé des bonnes histoires là-bas ? Est-ce que tu es déjà allé rider dans les stations des Alpes du sud qui sont à côté ?

J'adore vivre à Monaco. J'aimerais y passer plus de temps mais je voyage beaucoup. Quand je reviens, je suis super bien, je chill à mort. J'ai peur de raconter les histoires de malade qui me sont arrivées à Monaco donc disons simplement qu'il y a eu de bonnes grosses bringues. Ca peut sembler bizarre mais je n'ai pas encore eu le temps d'aller dans les stations aux alentours mais j'espère le faire bientôt. Je vais juste skater généralement quand je suis à Monaco.
English version below
Why did you named your movie Dayumm? What is the meaning?
We were actually having a really hard time finding a name that we liked, we started with Don't Panic but then we remembered that Isenseven did a movie called that a few years ago, so we came up with Fortune Cookie but we weren't to pumped on that, then when we were filming on the triple down with the gaps in between in Minnesota and Joe was by him self filming just saying Dayumm that entire day so for the rest of our trips we were all saying it all the time so we decided to call the movie Dayumm!
What is the song you used on your part? I shazamed and googled it and it seems to be from an old Hungarian rock band from the 60's ? So why did you choose it?
A friend of mine Kuske Fahlgren showed it too me and I just really liked it.
Is Sexual Snowboarding over?

Sexual Snowboarding will never be over but we didn't end up doing a movie this year. Dayumm! Was made by the king him self Joe Carlino, so I guess it was just Joe Carlino Productions hehe
Do you have any new brands coming in the future? How is Atrip going and what's your involvement in it?
No more brands for now, im busy enough as it is with Lobster snowboards, Switchback bindings 7-9-13 belts and now atrip apparel as well. Atrip is going really well for a start up brand so we are going all in on it. My involvement in the company is to help design all the clothes, do the photo/catalog shoots, get the right people involved in our special interest club and then sign off on pretty much every thing, I am really happy to be teamed up with Stigma distribution because they really know what they are doing and they are so good at what they do, same goes for Low pressure studios that me and Eiki do Lobster and Switchback with and Beatnuts that we do 7-9-13 belts with.
How do you split your time between the business part to run all your brands and the riding?
Its not easy but like I mentioned before we are teamed up with people that know what they are doing and take more care of the business side of things and I do as much work as I possible can and im learning more and more every year so its really fun, my main focus is just to snowboard as much as I can while I can, then when I get older the plan is to be more involved in the business side of our companies and be a team manager for the brands and hook up the next generation of snowboarders and just keep doing what im doing pretty much.
Can you tell us more about this crazy A2M movie from 2012 with this final scene with the dildo? The rumor said that Nike was mad at you for being in this movie and that some riders lost their sponsors. Do you plan doing more crazy partyboard movies like this or the old Partysnake movies?
(Laugh) Nike never said anything to me at least but I can defiantly see them not being to stoked on that movie. Many of the riders that were in that movie were snowboard coaches at our home mountain and they all got fired and I wasn't suppose to be aloud to qualify for the Olympics for Iceland so I guess the movie actually really helped all of us in the long run. My friends the Barf Bags are talking about trying to make a new movie so I hope we can make it happen as soon as possible. In case you didn't see RV Juice the second movie we did then please check that one out, the final part from Toros El Logos is a must see! Starts at (14.12 min) one of my all time favorite parts.
How do you like living in Monaco? Any weird or crazy stories happened there? Did you have time to try the resorts around from the south Alps? Any skating or surfing around Monaco?
I love living in Monaco man, I wish I could spend more time there but since im always travelling its often hard, but every time I come back there its so nice, just straight up chillinnnnn. I am afraid to tell the insane stories that have gone down there so lets just say there have been a lot of classic mayhem parties. I actually haven't gone up to the resorts around there which is so weird but I hope I will make it happen soon man, I usually just skate when im around in Monaco.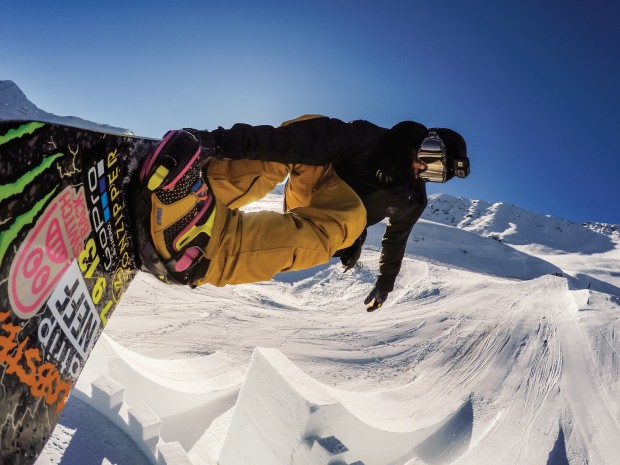 Use Facebook to Comment on this Post